Culligan of Madison
You could give your people Culligan Water.
Your Madison Water Treatment Experts
We are Culligan Total Water Madison, your water technology experts proudly serving South Central Wisconsin. Our dealership specializes in providing water softeners, reverse osmosis systems, water coolers, water filtering and softener salt delivery service to area homes and businesses.
CULLIGAN TOTAL WATER MADISON HISTORY
Total Water Treatment Systems Inc. was founded to provide quality water purity systems and services. The company has been in continuous operation in Dane County since 1943 as an authorized dealer of Culligan products. On September 1, 2003, 100% of the company's stock was sold to an ESOP (Employee Stock Ownership Plan). At Total Water, Employee Ownership means that we work together as a team to achieve our long term vision.
Meet some of our valuable employees.
We are proud of what we do and proud to provide the best water treatment solutions for our customers. We are clear about what is most important: customer service, team work, integrity, accountability and long term success of the business for our employee owners and the customers we serve.
In the last decade, Total Water has grown to become a leading supplier of high purity water to dialysis clinics, biotech companies, laboratories, and manufacturing and food processing plants in the Midwest and the South.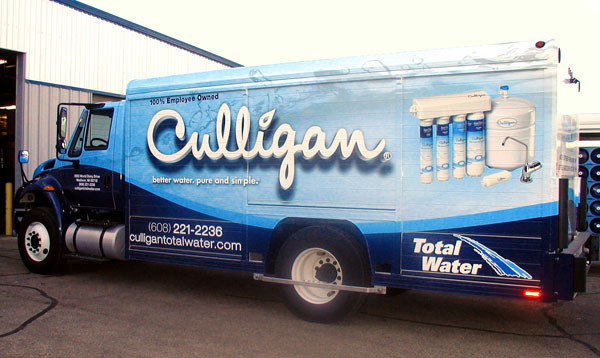 Our customers include individuals and organizations needing water purity and treatment systems in residential, commercial, laboratory, medical, and industrial environments. Our goal is constant improvement of our services and products. This requires daily measurement of our customer service performance and regular feedback to all members of the Total Water Treatment Systems team.
We offer the largest variety of superior water and water treatment products available for your home or business including bottled water, water softeners, water filters, drinking water filters, reverse osmosis, softener salt delivery, deionization services, dialysis services, water for injection and laboratory water.
Culligan products are built to last. They are backed by a 100% satisfaction guarantee — and the best trained and experienced service technicians in the industry.

---
Reviews for Culligan Total Water Treatment Systems, Inc.
---
05/01/2022
I've been a satisfied residential customer of Total Water for around 2 years. Their delivery guys are friendly and bring water bottles up to our front door. Deliveries always take place on the scheduled days. And whenever I have to make changes to my account, i can accomplish this with ease by email. Their staff are kind and efficient. Price per bottle and delivery charge are fair. I will keep my subscription with Total Water for the foreseeable future.
---
05/17/2022
Culligan is a company thatI have been with for more than 10 years as I rent the water softener for my home. They service and deliver the salt to my home. I never have to worry or think about this appliance, which is a relief since I never know when it's out of or low on salt because I hated having to fill the tank. Not to mention, I can't lift 50 lbs of salt anymore. Culligan also hires excellent employees who deliver and load the salt into my softener when I'm away from home. I have never had any [trust] issues with their employees coming into my home when I'm gone or when I'm home during a delivery. This has been an excellent company to work with.
---
02/26/2022
I love getting bottled water. Culligan makes it so easy and convenient. It's cheaper than buying bottles and saves the environment. Most important- my pets love this water! I'm filling the bowl three times a day. Wish I did it sooner.
---
02/26/2022
Culligan does a terrific job with salt delivery, and their customer service. Getting the job done right is foremost, whenever it is done with a smile and a great disposition while hauling heavy and awkward salt bags it really is a WOW moment! Over the course of years doing business with Culligan there has not been a disappointment with sales or service.
---
05/05/2022
Great experience. Very knowledgeable. Even removed a few unnecessary pipes to clean things up a bit!
---
---
Hey Culligan!
Hours
Monday: 7:00 AM – 5:00 PM
Tuesday: 7:00 AM – 5:00 PM
Wednesday: 7:00 AM – 5:00 PM
Thursday: 7:00 AM – 5:00 PM
Friday: 7:00 AM – 5:00 PM
Saturday: Closed
Sunday: Closed
Areas We Serve
Arlington, Belleville, Blue Mounds, Cambridge, Cottage Grove, Cross Plains, Dane, De Forest, Deerfield, Edgerton, Madison, Marshall, Mazomanie, Mc Farland, Middleton, Morrisonville, Mount Horeb, Oregon, Stoughton, Sun Prairie, Verona, Waunakee, Windsor
Review on Facebook
Learn more about how you can have better water.
Latest
Blog Posts
If you don't know what's in your water, you won't know everything a water treatment system can offer you. Schedule
First, get your home's water tested. Why should you get your home's water tested? Let's find out. Many contaminants are
Fast and professional. Easy to get an appointment scheduled.

Nick Burling
- Culligan Customer